Fireworks Show
WHAT: Independence Day Celebration & Fireworks Show
WHEN: 5 to 9 PM (fireworks start at approx. 9:30 PM)
WHERE: South Hutchinson Community Center and Park Complex
COST: Free
This year the City of South Hutchinson will host its first Independence Day celebration and fireworks show. The fireworks show is slated to last for twenty minutes and will be launched from the empty field west of the park complex.
Live music will be provided by Ad Adstra Radio which will be doing a live on-site remote and also advertising the event on air. Free hot dogs, chips, and drinks will be provided by ONEOK to the first 1,000 people in attendance. At least one food truck (Los Mariachis) and two dessert trucks serving shaved ice and funnel cake treats are scheduled to attend. Attendees are welcome to bring in their own food and drinks and picnic on the lawn.
There will be five inflatable bounce houses, including two large 45-foot long obstacle courses for the older kids to play on. We will also have a 25-foot rock climbing wall.
South Hutchinson Fire Department is planning to have a rescue obstacle course for kids, too.
We will also have a "Touch-a-Truck" style staging area of city vehicles and equipment.
Additionally, we will have mud volleyball courts and possibly some other recreational options like cornhole boards.
Parking & Viewing Areas
The map below will provide you with additional information about parking and viewing areas. Parking is allowed in the yellow areas and viewing is permitted in the green shaded or outlined areas.
Avenue C and Avenue D will be closed to vehicles (red shaded areas).
Washington Ave (black highlights) will be one-way traffic north from Avenue D to Blanchard. You are allowed to park on both sides of the road as long as the area is not designated as a "no parking" zone. Attendees are welcome to park on the residential side streets surrounding the park complex.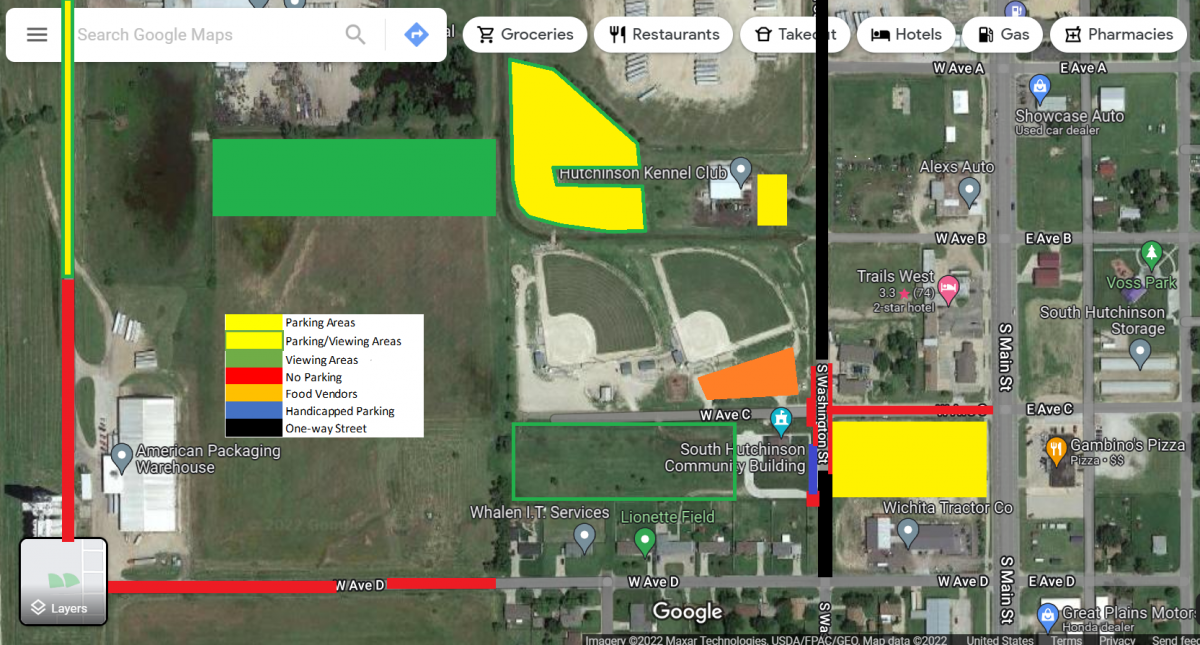 Locations
South Hutchinson Community Center
101 W Avenue C
South Hutchinson, KS 67505